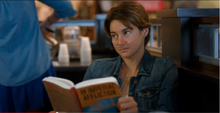 An Imperial Affliction, also referred to as AIA for short, is Hazel's favorite book, written by Peter Van Houten. She is said to have read it numerous times. It is first spoken about in the beginning of the book when Hazel explains that all she did those days was reread her favorite book. Augustus has also read the book upon Hazel's insistence. AIA later becomes one of Augustus' favorite books as well and both Hazel and Augustus converse about it many times throughout The Fault in Our Stars.
An Imperial Affliction means a lot to Hazel, she desperately wants to know what happens to Anna's mother, her soon-to-be stepfather, a mysterious man known as the Dutch Tulip Man, and Sisyphus, her hamster. She sees the book as a reference to her own life; she doesn't want to die without the security of knowing that her parents will be okay. Fans have asked if John Green will write An Imperial Affliction, but he will most likely not be, because of his annoyance of the question being asked and uncapability of writing something that is viewed by the characters as perfect.
The main character of An Imperial Affliction is Anna, who is later revealed to be based on Peter Van Houten's daughter, Anna Van Houten. Anna has a rare type of blood cancer, but is in remission at the start of the book. She starts a foundation called The Anna Foundation for People with Cancer Who Want to Cure Cholera because she thinks that the idea of people with cancer starting foundations to cure cancer is too narcissistic.
Anna lives with her one eyed, tulip-obsessed mother in California. Her mother starts dating a rich Dutchman who sells tulips and has many absurd ideas to cure cancer, however, Hazel believes that the Dutch Tulip Man is a con man (and possibly not even Dutch). Midway through the book, Anna's cancer relapses. The book ends right in the middle of a sentence when Anna becomes either too sick to write anymore or dies. This makes Augustus and Hazel angry, driving them to ask Van Houten what happened.
The main character, Anna, as revealed later in the book, was Peter Van Houten's daughter who died of cancer at the age of eight.
Hazel mentions that there are several Magritte references throughout the book, such as "Ceci n'est pas une pipe".
The title of AIA is taken from a line in Emily Dickinson's poem, There's a Certain Slant of Light. The poem details the heavy oppression of winter and is a meditation on despair, depression, and death.
Community content is available under
CC-BY-SA
unless otherwise noted.